Across the United States, communities come together on GivingTuesday to celebrate generosity in their towns, cities, counties, and states. The people who live and work in York County, South Carolina came together on GivingTuesday 2018 to celebrate generosity. We spoke with leader Sara Blancke, the Director of Communications at the Boys & Girls Clubs of the Crescent Region about how she and her team created #YorkCountySCGives.


What inspired your team to bring GivingTuesday to York County, South Carolina?
York County, SC, home to just over 250,000 residents, is a very generous community. So, in 2015 the idea to bring GivingTuesday to our community was met with overwhelming support and #YorkCountySCGives was created. My colleague, Jennifer Graham and I have both spent our careers serving local nonprofits, and we decided to kick-start our local community campaign. We were inspired to bring GivingTuesday to our community because we know so many local nonprofits are doing so many amazing things and we rarely take the time to celebrate the work they do. Both Jennifer and my regular day jobs at two local nonprofits – Hospice and Community Care and Boys & Girls Clubs of York County – meant that we would be organizing GivingTuesday efforts for both our own agencies as well as the larger community. We knew we could elevate the message of all things GIVING by joining together and inviting other nonprofits to celebrate GivingTuesday with us. The founding partners of #YorkCountySCGives represented nonprofit organizations, local government, civic-minded businesses and individuals interesting in making a local impact through #GivingTuesday. It was the first officially recognized community campaign in the state of South Carolina with just over 25 organizations participating in the first year. It has since grown to serve over 50 local nonprofits and is a partner of the new statewide GivingTuesday effort known as #YallTogetherSC.
#YorkCountySCGives has been a part of GT for several years now, can you give us a little background on how your campaign may have evolved over the years?
Our campaign started in 2015 with a little over 25 participating nonprofits. Each nonprofit came together for an official community kickoff to simply celebrate and let the community know that we were here together. Early on, Jennifer and I realized that we wanted to ensure that the #YorkCountySCGives campaign was not a fundraising strategy, but rather, a means to elevate the collective impact of our community's nonprofit work. So, in our second year, we incorporated more storytelling and worked with participating nonprofits to take over our social media channel. By year 3, we wanted to provide an opportunity for the public to get involved in celebrating their favorite causes and we created Dine Out, Do Good – a local restaurant spirit night type community campaign that encourages donors to dine at their favorite restaurant in support of their favorite cause. In year 4, we once again held a successful Dine Out, Do Good campaign while also incorporating more learning opportunities for our participating nonprofits to successfully run their own #GivingTuesday and/or year end campaign strategies. We realized early on that many of our local nonprofits did not have the capacity to spend much time or energy planning out their year end fundraising efforts. Some of the nonprofits didn't even have a logo or know how to set up a Facebook fundraiser. We have worked together to listen to what our local nonprofits want to learn and have created opportunities that facilitate learning and conversation together leading up to our year end efforts.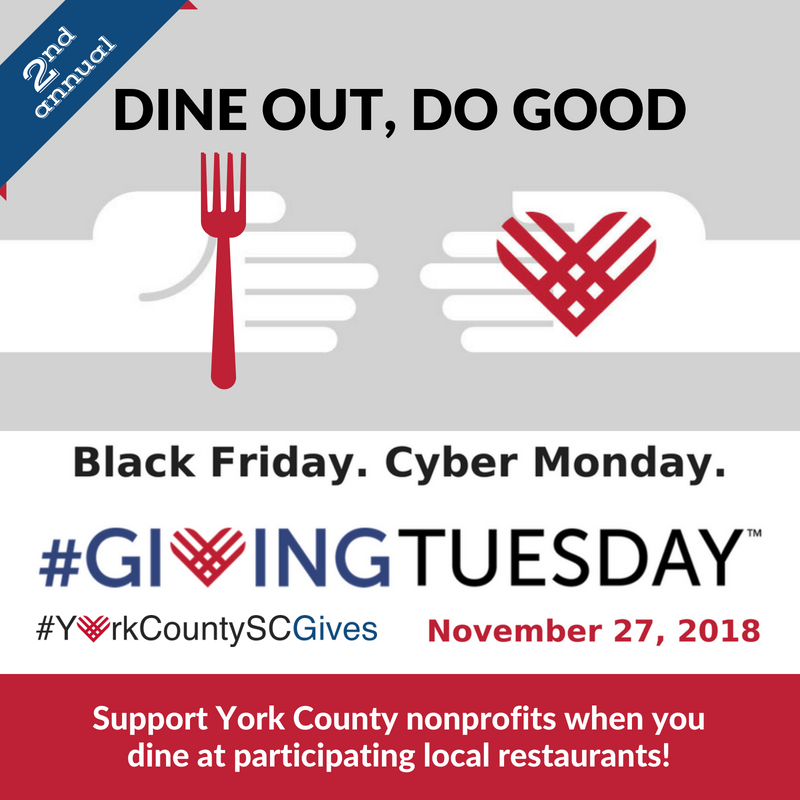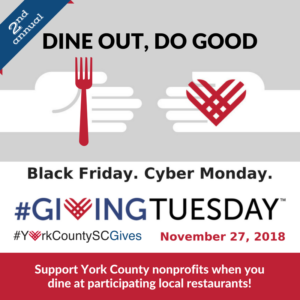 Tell us about Dine Out, Do Good!
Because our campaign is strictly at awareness campaign, meaning that we are not raising money directly for any nonprofit, and Jennifer and I had our own fundraising goals we had to accomplish for the nonprofits we work for, we looked for a way to offer a really easy way for the nonprofits to participate in GivingTuesday. Dine Out Do Good accomplishes several things:
For those nonprofits who would not have the capacity or know how to facilitate a GivingTuesday campaign or activity, this was a super simple way for them to raise a little bit of money on that day.
We kept hearing from local media, government, and supporters – where do we go to support these nonprofits on GivingTuesday? Dine Out, Do Good is a way for anyone and everyone to do something they are going to do anyway – eat – and at the same time, raise funds for their favorite cause.
It doesn't take a whole lot of work on our part to accomplish this. The participating nonprofits arranged their Dine Out, Do Good details with their selected restaurant and all of the donations flow directly between them. Our team promoted the partnerships on the website, social media, and in local media.
Most importantly, while you may not raise the most amount of money with a Dine Out, Do Good campaign the way we have created it, we create the excitement about giving back and supporting local businesses at the same time which is a win win to us!
You all are a great example of collaboration – you've got a statewide campaign happening, a neighboring campaign and you all play so wonderfully together. You've also got a great many partners that come together to make all this happen. Any secrets for how to collaborate with other organizations?
I think because our community campaign is an awareness effort rather than a fundraising campaign, we know that collectively we will accomplish that much better than if we tried to do it alone. We also realize that we are definitely not the experts. We have learned so much from our friends at #GivingTuesdayCLT in Charlotte, NC. And while their campaign is much larger and organized than ours is, we were able to scale down some of what we learned and implement it locally. We have also had a ton of fun cross promoting each other's campaigns because we have so many people who live or work in each other's communities. And, when we were approached by TogetherSC, our statewide partner now in its second year of #YallTogetherSC, we were happy to share our experiences and lessons learned so that others throughout our great state could be successful in their efforts too. Most importantly, our community is incredibly generous. Our local leadership, media, business owners and so many others work just as hard at their day jobs as they do at making sure that York County, SC is a place where people love to live and love to give. Yes, knowing the right people makes a difference, but working together to get to the right people makes a world of difference. We very intentionally celebrate each other's successes and show how easy it is to be a part of the efforts – who could say no?
What are you most looking forward to on GivingTuesday this year?
This year will be our 5th year participating in #GivingTuesday. I am very excited to look at new ways to encourage more people and organization to participate in Dine Out, Do Good. I have heard of a few really neat ideas in the works for some of our local nonprofits and I can't wait to share their Dine Out, Do Good plans. But that is what makes me the most excited – that they have taken the idea that we created and turned it into something meaningful and beneficial to their cause. Additionally, I am excited to continue working with #YallTogetherSC's efforts to bring #GivingTuesday to new and more communities throughout our great state. And, we are bringing additional learning opportunities to our community as part of a monthly inter-agency coalition meeting that brings local nonprofit leaders together to learn and share. We are also working hard to determine how we are going to best measure our results while also just having fun! And that is what it's all about – we have fun with this. We are all volunteers and do this for the joy it brings to us and to others. We can't do this without the support of others…I cannot imagine doing this on my own! Finding like-minded individuals who share similar passions for our community is crucial to our success. So make it easy, make it fun, and make it relatable.