Around the country and around the world, communities come together on GivingTuesday. Community Campaigns often form in cities and states but they also organize around common issues or causes. What they have in common is a belief that bringing a community together around the spirit of collective generosity on GivingTuesday creates ripple effects far beyond the day. We spoke with the ComoGives team about how they leverage GivingTuesday to boost individual giving in Central Missouri.
Tell us about the history of CoMoGives? What inspired you to bring GivingTuesday to Central Missouri?
When we first started CoMoGives we just wanted to create a platform to make it easy for donors to give online and bring the opportunity of online giving to nonprofits who don't have the resources to build it on their own. By pooling the audiences of all our local nonprofits together, we suspected that we could do more than by just fundraising individually. At first the organizations were kind of freaked out by the idea – what if they send someone to the site and they give to someone else? What if people give less to them because they're giving to others? The first year certainly sparked some interesting conversations. After the first campaign, we shared the data (which we are very transparent with) and proved to the organizations that people generally gave to two or more nonprofits per transaction, calming their fears and helping us move forward.
Just like any business, a strong nonprofit needs a stable financial foundation. CoMoGives was created not just to generate funds but also to build awareness among our local nonprofits about the opportunities available through the Community Foundation of Central Missouri. Many nonprofits are in a continual struggle to raise enough funds to distribute their good works, the Community Foundation helps them invest funds to passively build income to use in the future so they can focus more on their mission.
We'd love to hear a little bit about Central Missouri. What's your community like?
Columbia is an eclectic little big town almost right smack dab in the middle of the US. People who aren't from here get a little creeped out at first because everyone says hi to each other! We're not just people friendly, we're dog friendly too, my dogs venture into all kinds of unexpected places. Instead of being kicked out everyone just offers a pet story and a scratch behind the ears. I think because so many of our businesses are locally owned everyone is a bit more laid back. Bankers still wear suits and ties but many of us just don jeans for work.
Columbia, MO is home to the University of Missouri, Stephens College, Columbia College and Moberly Area Community College. The schools keep us young. Surprisingly, we are actually quite a cultured bunch of people for being landlocked. We have tons of concerts, parks and things to do. People from around the country visit us for our True False Film Festival and Roots N Blues Music Festival.

What have GivingTuesday and CoMoGives done for the state of generosity in Central Missouri?
CoMoGives has definitely heightened our community's giving spirit. Each year we gain more organizations wanting to participate, some to fundraise, others just to build awareness from the attention of the campaign. Each year the community donates more, the average donation size increases and people continue to give to two or more organizations per transaction.
So many media outlets come together to promote CoMoGives: our local paper, TV stations, radio, online ads, digital marketing, not to mention the social media outpouring by the organizations themselves. As a result, each year community citizens become aware of not just the campaign but also new nonprofits supporting causes they believe in right here in Columbia.
Part of the reason GivingTuesday has been able to grow so well is that we encourage community leaders to take it and make it their own, to be as creative and authentic as possible. How did you 'localize' GT to make it resonate with your community?
Really, each of our participating organizations approached it differently. I think the buzz of GivingTuesday really helped push this year's campaign to an amazing start. We started talking about marketing the campaign in August with a half day hands-on workshop to start our organizations thinking about promoting their cause. We had panelists talk about their most successful activities, held a workshop to break down activities for each month leading up to the campaign and also went in depth about social media and how to use it. We created videos of organization leaders throughout the city talking about the campaign and pushed the message on all the major online networks.
What's the scoop on your printed guide? How long does it take to put together? How do you distribute it?
The printed guide is an interesting endeavor, one we debate every year. The past few years we've tightened up the booklet, printing fewer pages and fewer copies as well. Each nonprofit uploads their text and photos to Zapier. After John, Director of the Community Foundation, painstakingly edits all the text promoting each organization, we export it from the site and deliver it to the Columbia Daily Tribune. Thank goodness they compile all that data into a pretty printed guide detailing all the participating organizations, sharing testimonials about what they used the funds for, and also sharing what many of the donations would be used for.
After production the guide is distributed by the participating organizations and also by the Tribune in the paper. We also offer a digital version for tech savvy orgs to share. Many of the participants really appreciate the guide as they don't have printed materials about their organization. They say handing the guide to potential donors with a bookmark on their page helps them validate their cause and gain support they may not have had otherwise. We don't really have a good way to measure what donations came from exposure to the printed guide–it all works together.
CoMoGives runs from GivingTuesday through December 31. Tell us more about your timeline. We get this question SO MUCH: "How can I leverage GivingTuesday and still do an EOY campaign." Was this your thinking when you planned your campaign?
The campaign timeline is continuing question mark, how long is too long? The biggest giving days in the past three years have been the first and the last days of the campaign. This year with the addition of Giving Tuesday our campaign was even longer, but it proved to benefit our nonprofit participants. Opening on Giving Tuesday gave us our biggest opening day ever, $105,996, up from $28,846 in 2016 and $33,228 in 2017. The huge outpouring of donations on GT resulted in lower donation totals for about 10 days after. All of us campaign administrators were biting our nails by day 7 and keeping our fingers crossed that the per day gifts would draw back up to normal so we could raise our campaign goal of $800,000. The daily donations did pull up on day 11 but our daily totals didn't spike quite as much as in past years. We did however have a record last day at $133,634 and with matching gifts were able to reach our goal.
The Community Foundation of Central Missouri provides challenge grants on CoMoGives, which is an incredibly meaningful incentive for donors to give. Tell us more about your thinking behind supporting nonprofits in such a meaningful way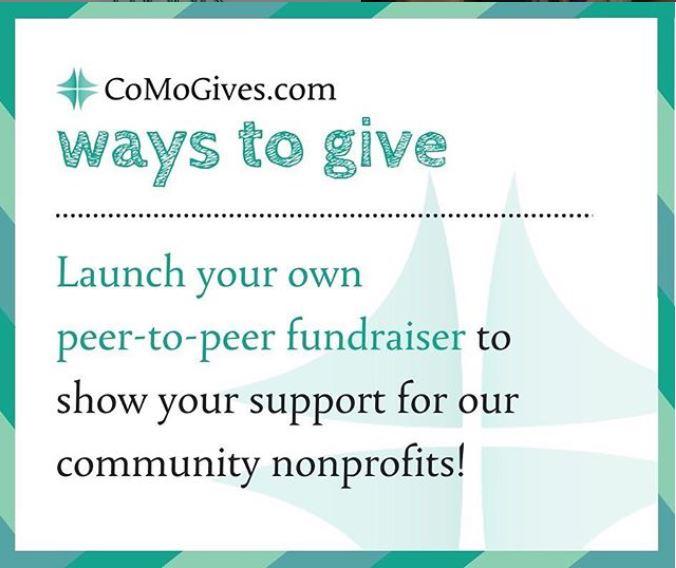 The Under 35 Challenge Grant has been with CoMoGives from the beginning. One of the campaign's goals is to instill charitable giving in the lives of younger persons, and this Challenge helps organizations reach out to younger donors. Many of the categories for recent year challenge grants were actually suggested by the organizations themselves. Every year, after the campaign, the Community Foundation hosts a "think tank" breakfast where we share the success of the campaign, thank our sponsors, and talk about what we'd like to do differently next year. We recognized the disparity between the organizations and the resources they have available and the Community Foundation wanted to offer grants attainable to all organizations, not just the ones giving away free concert tickets or those with a big marketing budget. The Community Foundation wants to create a sort of level playing field so that all participants have a shot at winning a Challenge Grant.
Your Instagram is on point! Your images and your captions are just brilliant – really authentic and charming. Can you tell us a little about your social media strategy? Who's primary your audience? What were your goals?
Our social media strategy is all Dana's magic, he's the guy behind the social media ideas. He started by researching what worked for others and tried to emulate (and improve) the greatness. He wrote the content, and Katie, our social media graphics goddess, made the fabulous art. We were excited to integrate a social feed into the home page of the comogives.com site last year as well as on the individual participant pages so our organizations could share their stories in more than just a 250-character bio. We offered to share all social posts hashtagged #CoMoGives on the home page to encourage branding the campaign and ran ads on social networks focusing on video views and conversions.
We made quite a few videos, where we spliced footage from some of our nonprofit participants talking about the big impact that a small donation can accomplish and who donors are helping by supporting their missions. The videos were really fun and we learned a lot while making them. The biggest lesson was in organization, both with shooting schedules and the raw files.
We set up filming days where the organization leaders would come to us and we'd read them a script and they'd repeat it, after they were settled in we'd ask them to share about their organization, this worked very well.
Believe it or not we shot the video with a digital camera on a tripod. To be totally honest though, the cameras we used weren't ideal for shooting video and some of the shots were blurry so we invested in a nicer video camera for this year! We recorded the audio with a lav mic and an iPhone, and that worked great.
The biggest challenge for the videos was organizing all the footage and going through it to find the right take while still trying to include as many different organizations/people as we could. Dana had his work cut out for him when compiling our first video. But, we created templates and were far more organized for our second video shoot so compiling the following two videos was easier.
We are really proud of how the videos turned out though and think they were an amazing addition to our campaign. Now that we've done it once we'll be just that much better next year!