A collaboration with GivingTuesday Data Commons and Mailchimp
Whether you're worried about skyrocketing unsubscribe rates or plummeting clicks, here's why you could be better off sending more, not less.
Email is often revered as the most efficient way to get donations, outpacing social media, organic search, paid ads, and referral traffic. But if you're only reaching out to your email subscribers when you're asking for donations, it may be time to reassess.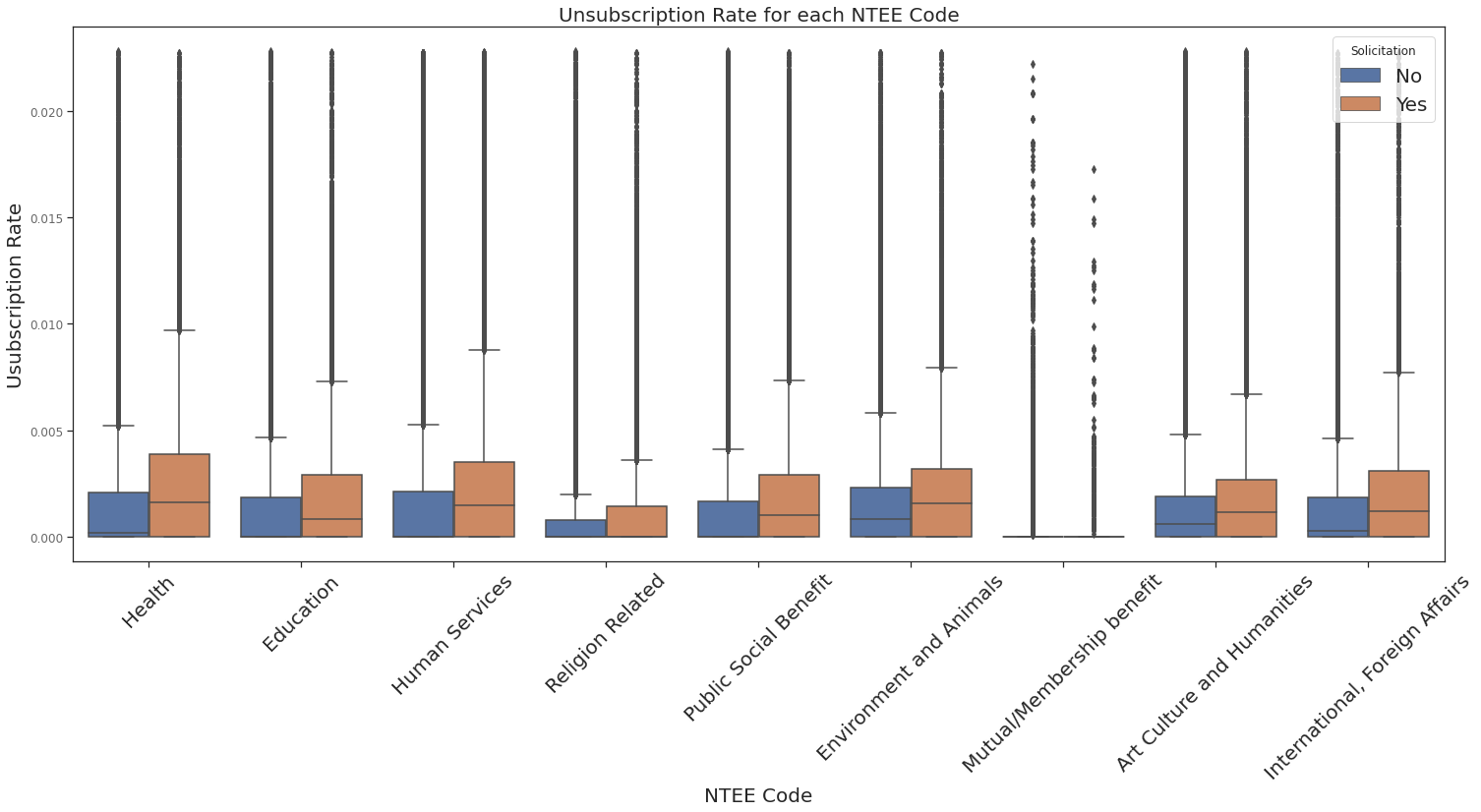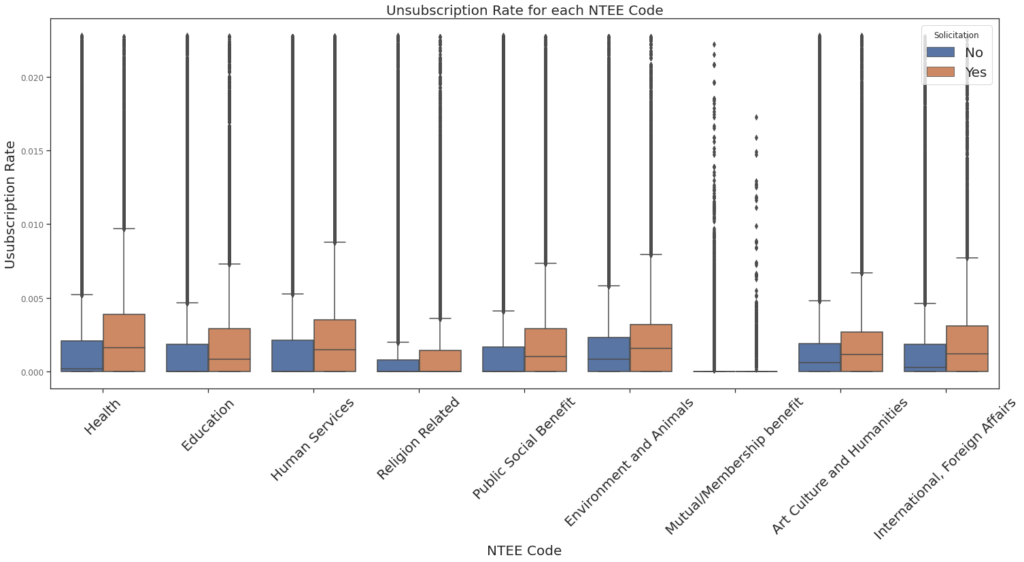 According to Mailchimp data, between January 1, 2020 and November 27, 2021, non-solicitation emails have a lower unsubscribe rate (shown above, broken down by NPO category) and a 50% higher click thru rate compared to solicitation emails. This doesn't mean you should avoid solicitation emails altogether—communicating with your most loyal supporters about how they can contribute to your organization is still a vital part of any non-profit organization's email strategy. But it does mean that you should consider what else your audience might want to hear from you. 
Think of email marketing like a relationship. 
You wouldn't expect a friendship to thrive if you only gave it attention during your hours of greatest need. So why do so many organizations expect it to be different with their donors? 
Invite your audience along for your organization's highs and lows. Celebrate the wins with them, be they successful events or uplifting stories about the difference you're making. Or offer a peek behind the scenes: Introduce key members of your organization with staff spotlights, or open up about the planning process behind a beloved annual event. 
This relationship can be a two-way street, too. Remember, you can also use emails to ask your audience for feedback, send surveys, or tell subscribers how they can reach you. Your analytics can also help you hear your audience's needs: Look at what kinds of content tends to generate the most clicks, and take note when you notice certain kinds of media (say, photos or GIFs) or topics that generate increased engagement. 
Keeping in touch in between giving campaigns can generate warm feelings among the folks on your list, making them more likely to donate or spread the word about giving campaigns when the time comes. 
Change your perspective on unsubscribes. 
We get it. It hurts when someone unsubscribes from your email list. It can feel like you're moving backward, especially when so many of us work hard to build up our audiences. When you work hard to deliver relevant content, an unsubscribe can bruise your ego. But in many cases, it's actually a good thing when uninterested recipients remove themselves from your email list. 
People who don't want to get your emails can be less likely to engage with them anyway. Taking themselves off your list—rather than staying there as inactive subscribers—can help you increase your email delivery and save room for recipients who actually want to hear from you. You probably weren't gaining much from a subscriber who ignored all of your messages. These users are offering you the opportunity to refocus on what matters: engaging your most devoted community members with the content they want to receive. 
Design an email strategy with several different pillars. 
Engaging with your email list outside of fundraising isn't as tough as it sounds. You can start by implementing automations to bring new users into the fold. A well-crafted welcome sequence can introduce subscribers to your mission, spread news about your impact, and show them how to get involved—all while your organization is still fresh on their minds. 
Once you properly introduce yourself, try keeping casual followers in the loop with regular e-newsletters. Sticking to a regular editorial schedule, whether you're sending every week or every month, will help you plan your content and ensure you're reaching out to subscribers outside of fundraising campaigns. And once you get to know what your audience wants, you can even segment sends to deliver the most relevant material for different groups. 
Next time, we'll dive into the data around what makes a great email campaign. Whether you're optimizing the number of images or figuring out how many links to include, we'll talk about what drives the greatest results—and how you can harness that to benefit your mission.