A collaboration with GivingTuesday and Mailchimp
Many nonprofit marketers worry about overwhelming inboxes, but your organization may actually benefit from sending more often. Here's why. 
GivingTuesday gets a bad rap when it comes to email. 
It's okay. We can talk about it. The argument usually goes something like this: "I'm sure my supporters are going to receive a bajillion emails from charities on GivingTuesday. I don't want them to get irritated and unsubscribe from my emails forever." 
At first glance, it seems like a thoughtful impulse, looking out for subscribers' busy schedules or guarding their "inbox zero" status. Or perhaps it's a self-conscious one, rooted in the idea that it might be cringey or rude to assume your org would be top-of-mind on one of the busiest email days of the year. 
But when you talk yourself out of sending the email, you do your cause and your donors a disservice. Your email subscribers signed up for updates—not just about the good work you're doing, but also about how they can help. By bowing out of the inbox, some of your most loyal followers may never know that you need them to contribute. (And honestly, there's a good chance the slot your email was taking up is just going to be filled with a message about 2-for-1 chinos.) 
We know it can feel uncomfortable to increase your email frequency. So we partnered with Mailchimp for a deep dive into nonprofit email data, looking at emails sent not only around GivingTuesday, but all year long. What we found offered plenty of evidence that the best path forward for nonprofit email marketers is decisively less timid. Today, in the first of three posts, we'll answer the digital marketer's eternal question: Is my nonprofit sending too many emails? (TL:DR: No.)
Nerding Out: Our Methodology
Mailchimp sends billions of emails each month for millions of users, so they have a lot of information about data and trends when it comes to inboxes around the world. Since 2020, GivingTuesday has been Mailchimp's third busiest send day of the year, eclipsed only by Black Friday and Cyber Monday.
And it's only getting busier. Mailchimp's email sends on GivingTuesday have steadily increased each year since 2016. 
So how can we use this data to help our causes? To zoom in on what matters most for the community here at GivingTuesday, Mailchimp started by making a list of all their active users who self-reported as nonprofits. (An active user means that they sent an average of 1 email per month or more since either January 2020 or when they created their account.) From there, they created a source dataset of all the email campaigns sent by those users since January 2020 and classified them by intent (think solicitation compared to, say, newsletters). Together, we ran those emails against GivingTuesday's NTEE classification robot (its name is Gary) to figure out their cause areas. 
As a result, we were able to see how nonprofit organizations using Mailchimp are (and aren't) leveraging email marketing to drive results. Here, we've put some of those results into context by sharing them alongside what we know about email marketing and donations. 
Your Top Donation Driver 
Compared to social media, paid ads, and other tools, more online donors say that email is the tool that most inspires them to give—and when DataAxle recently asked donors their favorite method of receiving updates and appeals from an organization, 48% cited email as their preference. 
We know email is an important way to drive donations. But instead of adjusting our strategies to leverage that information, the nonprofit community is increasingly shy about using it to ask for contributions. In 2020, only 48% of active nonprofit Mailchimp accounts sent solicitation emails. In 2021, that number dropped to 38%(!)
When an email generates a large number of donations or click-throughs to a volunteer form, your audience is sending you a message. They're demonstrating that this method of communication works for them, whether it's because they're reading the message on a device with pre-filled credit card information or you've sent a compelling ask that's easy to forward. When you build your strategy around audience behavior—in this case, based on when and how they tend to donate—you're showing them that you're listening. Treating your donors like an ATM is definitely not the ideal way to operate. But showing them that you're paying attention to when, why, and how they like to get involved? That's how you strengthen a relationship and find a balance that benefits everyone. 
How Do I Stack Up to My Peers? 
In consumer content marketing, many experts recommend what's known as the 80/20 rule—the idea that only 20% of your messaging should attempt to sell your customers something, while 80% should focus on educating, informing, or entertaining them. If that ratio sounds lopsided, consider that charity organizations are working with an even lower percentage: According to our study, nonprofit email marketing barely includes sales messaging (read: donation solicitations) in an average of 10% of email campaigns.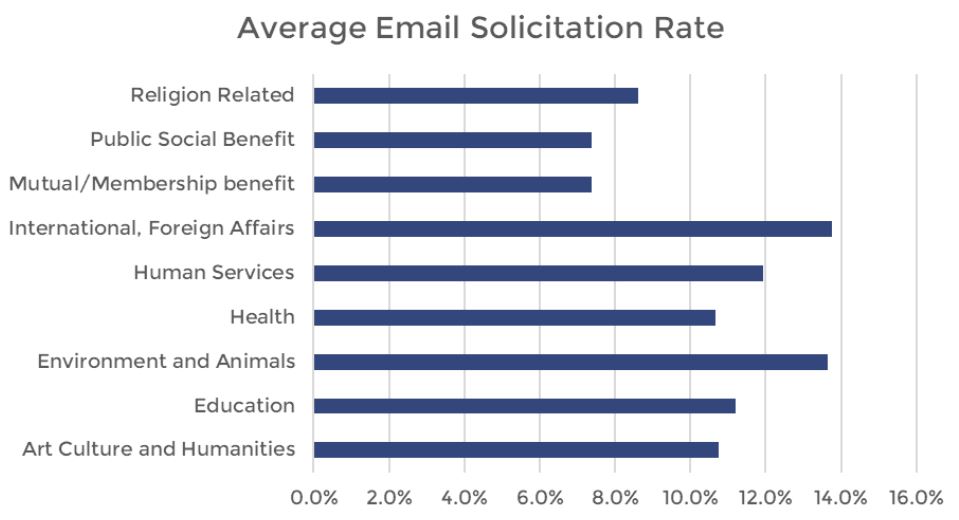 Take a look at the table above. Where do your peers fall in the ratio? Looking at your recent campaigns, where do you fall? 
We know that the content filling the other 90% of emails is important. Building familiarity, respect, and good will among your donors is truly valuable work, and the inbox is an excellent place to accomplish that. We love seeing organizations share their wins, offer event recaps, or tell engaging stories via email. But asking for donations is just as important. When subscribers sign up for your updates, they know this is part of the deal. In many cases, they're actively seeking direction about how and when your organization needs them most. As you chart out your marketing calendar for the coming season, think about the ratio you're creating. What can you do to better balance the scale? 
Losing the Scarcity Mindset 
If you approach your marketing campaigns dwelling on how you might scare people away, you're usually only scaring yourself. For too long, nonprofits have seen each other as competitors for the same finite pool of dollars. But what if that pie is far bigger than we assumed? Givers are ready and willing to give, and nongivers are just waiting to be invited to the table. The first step is losing the self-imposed stigma of asking for donations or for participation in your cause via email. The more you reach out to your list, the more comfortable you'll be when it's time to make big asks—and often, that starts with simply sending more emails.
In our next post, we're going to be talking about whether or not sending more emails increases the risk of unsubscribes or lowers your click through rate. (Spoiler: it doesn't). We're also going to talk about how to create a hardworking email marketing strategy that optimizes for building a community.