What we know about generosity during crisis, donor behavior, and why retreating from engaging supporters during this time is a huge mistake
By: Woodrow Rosenbaum, Chief Data Officer, GivingTuesday
As we quickly approach the year-end giving season, we've been getting a lot of questions about what to expect for GivingTuesday on December 1, how donors will respond through the end of what's been a turbulent year, and how to plan when there's so much uncertainty and noise from all directions.
In 2020 so far, predictability is down while variability is up. This means that as much as we can't predict exactly what will happen in December, it's also likely that there will be more uncertainty in all directions. But that doesn't mean you should throw in the towel on 2020 by pulling back on solicitations or skipping campaign opportunities like GivingTuesday–in fact, the temptation to retreat expressed by many nonprofits may be the biggest risk looming over this year's giving season.
We know that economic uncertainty suppresses giving, however we also know that people are motivated to give during times of crisis and 2020 has been no exception. Giving is an important way that people address their uncertainty. Expressing generosity–whether through acts of kindness, volunteering, or charitable donations–gives people agency, allowing them to feel hope and connection in a time that many have felt hopeless and disconnected.
After a significant slump in giving during March and April, giving has recovered and is higher than 2019 compared to the same time period. The recently released Q2 Report from the Fundraising Effectiveness Project (FEP) shows that giving in the first half of 2020 has increased by 7.5% compared to 2019. So, we're seeing that even though there is concern about financial uncertainty, this has not outweighed the motivation to give.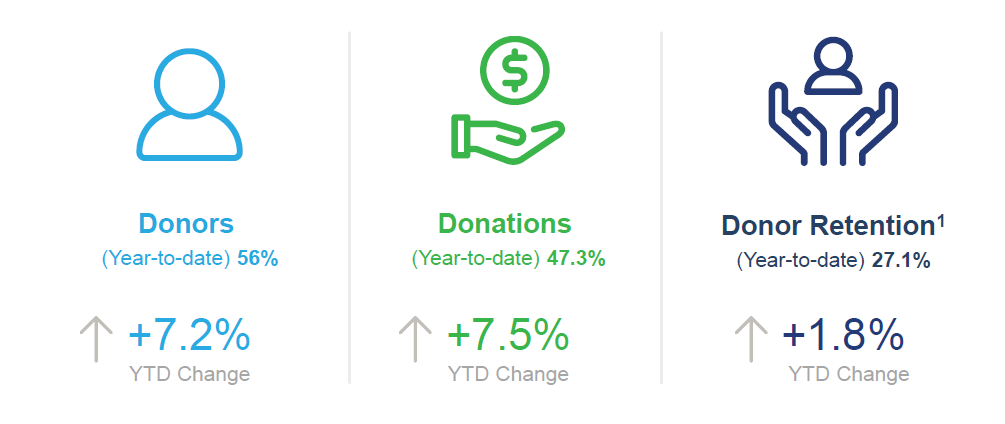 It appears that a key driver of the slump at the beginning of the pandemic and restrictions was also heavily influenced by organizations being absent from the market, as many were not prepared for the size and scope of this crisis and being forced to pivot quickly and change plans, such as cancelling or modifying fundraising events and monitoring their own response to the spread of COVID-19. Some organizations also shied away from asking for support during this time, which affected donor engagement and response.
In contrast, the increase in giving shows us that donor intent has remained strong and that people are highly engaged and motivated to give. We are seeing a swell of donor acquisition, and a lift in all donation categories, most strongly led by the number of smaller-dollar gifts. The FEP report shows the number of gifts of less than $250 increased by 19.2% when compared to this same time period in 2019, and this is in line with reports from GivingTuesday Data Commons platform partners. Year over year gains in the overall number of donors increased by 7.2% with new donors increasing by 12.6%, as reported in the FEP data. There is a high grassroots response to the current need and based on survey data, we've found the more people are concerned about things like COVID-19 the more likely they are to give. The data also suggest that people are giving more broadly, donating to more organizations.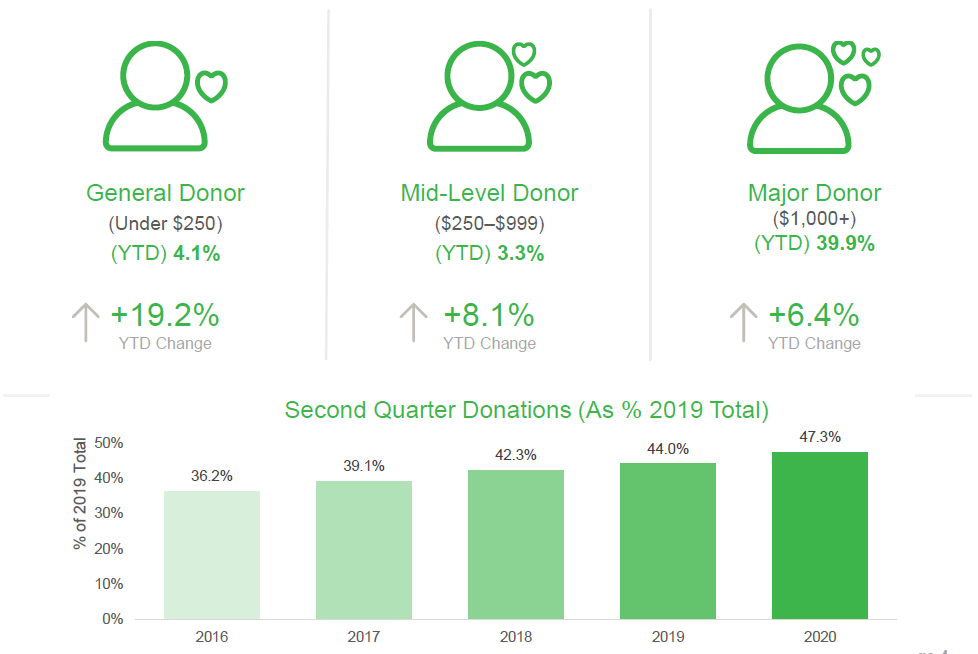 So, what does this mean for mobilizing your community and rallying support for your cause?
Resist the Myth of Donor Fatigue
First, and most importantly: Don't retreat!
The biggest risk to this giving season is that organizations will step back by not reaching out, filtering out donors who already gave, or reducing their campaign touchpoints. Many worry that their donors may be tapped out or cite that they want to be sensitive to stress and financial concerns, but retreating from the marketplace will be the biggest risk to organizational success. We're currently seeing the most ripe environment for generosity behaviors, so now is the time to engage your supporters, help them connect to the community through giving back, and provide them with a path for help, hope and healing by expressing their generosity alongside your work.
Like many myths, "donor fatigue" is a construct we have created to explain the world we observe. If donors were truly tapped out, it would be impossible to motivate them to give more, and yet we see examples of when they do exactly that: during disaster relief campaigns, we see a large rise in donation results without a corresponding drop afterward. So, there has always been at least one example of something that motivates a net increase in donations.
Focusing on the quality of your messaging and providing opportunities for supporters to engage beyond only donations, rather than on the frequency of communications, are the keys to greater success. Leverage the opportunity to engage and re-engage your supporters (such as on GivingTuesday); and test your campaign creative to identify approaches and messages that will inspire support.
People are currently more motivated to give than in perhaps any other time in history and across all cause areas. We are wired to be generous and supporters rely on organizations and causes to give them that opportunity — they want you to show up and lift up ways to help. As you consider if and how to participate in GivingTuesday this year, consider this fact: in years when U.S. giving is down by dollars or number of donors, giving on GivingTuesday has increased on both, consistently. Your donors are going to give on December 1 — you want to make sure they know you welcome their help.
Make Sure Your Message Meets the Moment
We know from disaster fundraising that big unexpected events shift people's focus. So, causes should find ways to be relevant in the moment. Show how you are working to combat the effects of COVID-19, the economic crisis and other issues that are top of mind for your constituents. Even if you are not part of the front-line response, you are still providing valuable services to your community and those who are connected to your cause during this time.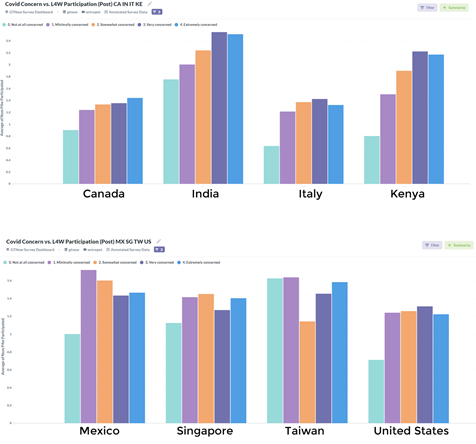 There is a high grassroots response to the current need and based on survey data, we've found the more people are concerned about things like COVID-19 the more likely they are to give. Highlighting the individuals and communities that you serve can help your donors connect with your work and see the impact they can have, and dig deeper or engage with your organization in different ways.
Diversify Who, What and How You Ask
Diversifying who you ask and what you ask is important during times of crisis–don't restrict your outreach to only major donors or focus only institutional funding. Remember, we're seeing increases across the board in all levels of giving. Also consider tapping into other sources such as Donor Advised Funds which offered a source of additional resilience during the last recession and have grown substantially since then.
People still want to give, even when times are tough, so be prepared to accept other forms of giving and giving from different sources. In 2017, we found that donors give and get involved with organizations in many ways during GivingTuesday. Of those who donated, 29% talked about the organization on social media while another 29% discussed it with others. These social effects are powerful and can bring in new sources of fundraising.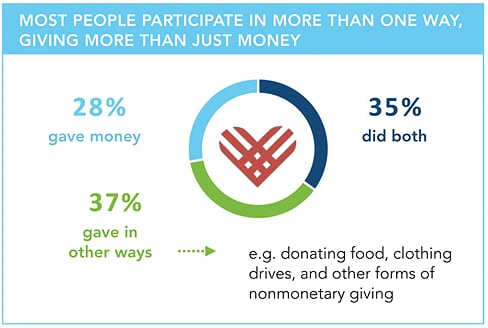 Supporters want multiple ways to give and this correlates with higher donations. This is especially important when money is tight. If supporters feel they have reduced capacity to give a financial contribution, engaging them in other activities–such as virtual volunteering, advocacy efforts, or kindness campaigns–will help strengthen their feeling of connection to your work.
Embrace Small Dollar Donors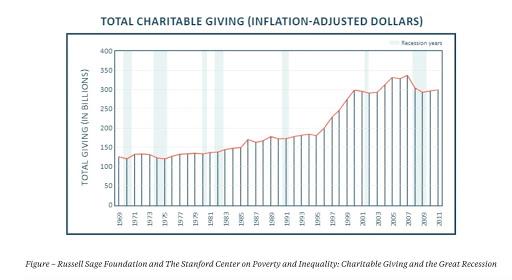 The declines in giving during the Great Recession were led mostly by wealthy individuals. During the great recession, states that had large decreases in median income actually had large increases in the % of dollars donated per after-tax dollar. Taken together, these trends indicate that small dollar donors are reliable even during recessions and that they are activated to give after disasters.
This year is no exception. We're seeing a surge of activity by donors giving gifts under $250, and evidence from GivingTuesday donors also teaches us that there is tremendous potential for return when engaging small dollar donors. When small dollar donors return, they tend to give more than their original donation. Further, data from GivingTuesday 2017 shows that recurring donors were more likely to have a lower household income than one-time donors. Recurring donors are ultimately worth over 5 times more than one time donors over time. Now is the time to engage and foster relationships with small-dollar and new donors, especially if your message highlights how your organization is directly helping mitigate effects of the current crisis or how it impacts your community or cause.
Tap into Community
In a 2019 Horizon Media survey, 52% of people who reported participating in GivingTuesday said they do so because it allows them to be part of a bigger group of people doing good together.
Social listening trends show that those who are talking about GivingTuesday in 2020 are doing so in the context of themes such as community, family, and justice. This is a shift in the conversation compared to 2019, but is similar to the themes we saw during #GivingTuesdayNow when people were eager for a way to connect and give back during an emerging crisis.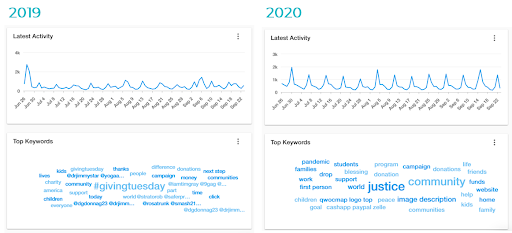 People are thinking about who's in their community, how they can help them and how they can have agency over difficult circumstances. These are positive indicators of giving and suggest that we are heading into a year-end giving season that still holds a lot of opportunity. To tap into this sentiment, communications should highlight the ways that supporters can be a part of a larger community of givers and underscore the connection between giving and the impact it will have in their community.
While we continue to face challenging circumstances, the data from this year and historical trends suggest plenty of opportunity to meaningfully connect and empower supporters to take action. At best, retreating will hinder nonprofit success this year…with the possibility of weakening long-term awareness and donor relationships. As we overcome adversity and work collaboratively to connect and strengthen our communities, we may find that 2020 is the year we fully embrace generosity in all its forms as a path for not just recovery, but reimagining our future as a sector and a society.
LEARN MORE: Wanna find out more more about what to expect for GivingTuesday 2020? Listen to the recording of our recent webinar. Captions available in English and Spanish.