GivingTuesday, the world's largest generosity movement, isn't just a day about dollars; it's about communities coming together. It's about uncommon leaders forging uncommon partnerships to drive change – not only within their local community, but in other towns, and cities across the US and, often, halfway around the world.
Community Campaigns are led by people raise their hands to bring GivingTuesday to their cities, states and towns. These campaigns take place across the US from Alaska, to New England, to Florida, to the Southwest. Some campaigns go beyond geographical borders and rally support for a cause-area or for nonprofits addressing a certain issue. The number of campaigns has grown from just 2 in 2013 to over 150 in 2019.
We are the biggest generosity movement in history.
We are a team of millions, representing all races, faiths and political views, with activity in every country, on every continent. We are GivingTuesday.
Every year, we bring together these Community Campaign leaders from all across the US to share experiences and plan for 2019. (We host a separate summit for global leaders; read more about that event here). The Communities Summit is something between a family reunion, a fellowship, and fire hose of information – but in a good way. This year, we landed in Charlotte, North Carolina, for two days of interactive workshops, brainstorming, and planning to grow the biggest social movement of all time.
Our leaders are from all over the United States. They are young and young at heart — our youngest leader is age 12. Some have backgrounds in fundraising and nonprofits but sometimes not. We're get together for one reason – to unite in rallying communities around building a more generous world.
We began our time together with a walking tour of Charlotte and learned about some of the incredible work being done by nonprofits and activists in the Queen City.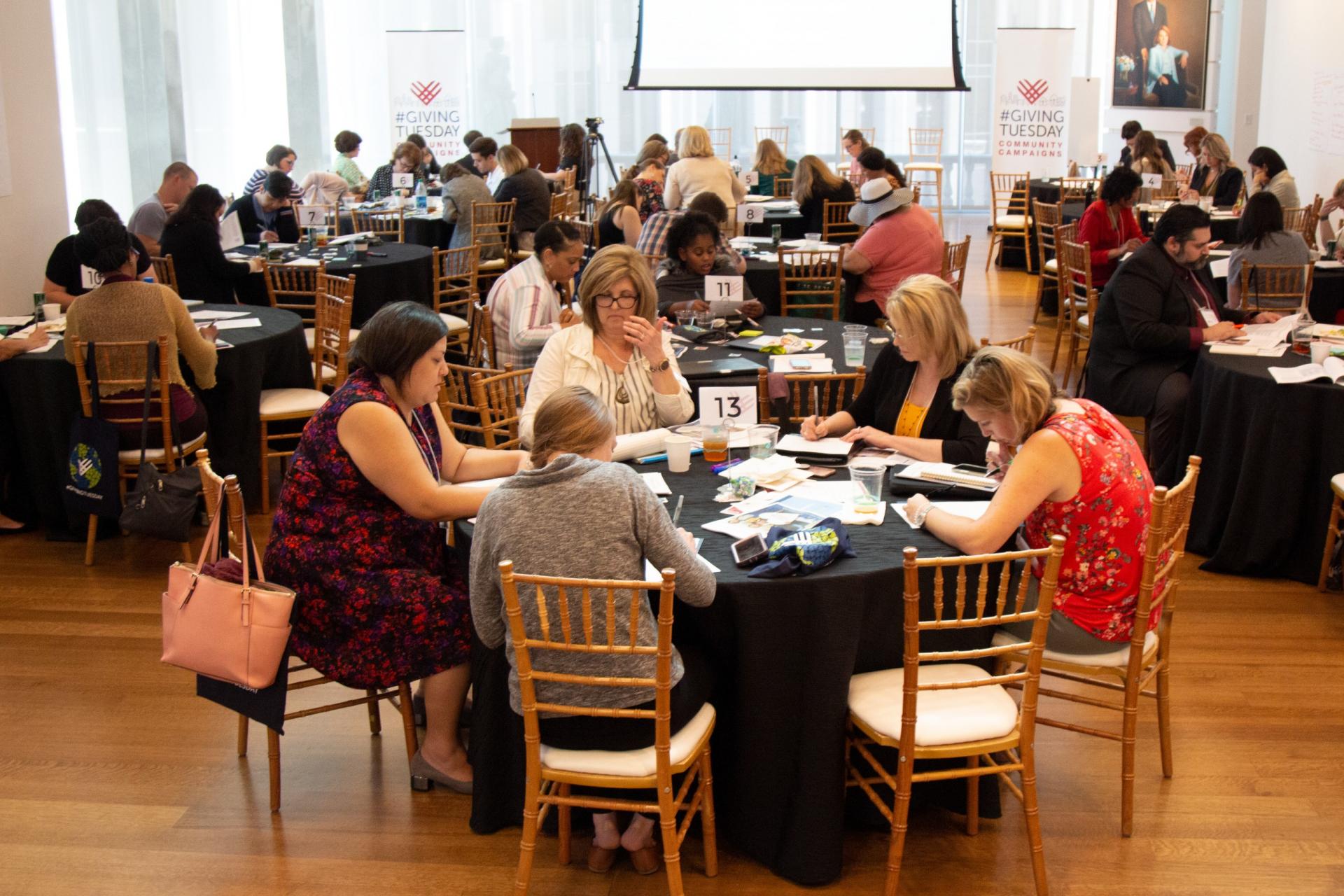 Our first Summit Day, which was held in the Foundations for the Carolinas' cheerful space, kicked off with a recap of how GivingTuesday grew from a single day to a global movement across more than 150 countries. Leaders worked through a worksheet to reflect on 7 lessons we've learned when it comes to building successful, authentic movements, and how they can apply those lessons to their own local GivingTuesday movements.
Our GivingTuesday Ukraine leader, Maria Artemenko, shared her incredible success story of how she and her team built a movement to lift up Ukraine as a nation of "do-gooders." At a time of incredible crisis, her team engaged over 410 organizations in all 24 Ukrainian regions, including 15 major cities which declared GivingTuesday – or #ЩедрийВівторок – an official holiday. Asked why it was important for the Ukraine to participate in GivingTuesday, Maria simply said: "If we want to live in a better world, we have to build it."
We closed out the day talking about new coalitions that the GivingTuesday team will be helping to build this year, particularly cause-based campaigns, as well as engaging diverse communities and young people.
The second day of the Summit brought a deep dive into tactical elements of building a GivingTuesday community campaign. Knowing that the experts were already going to be in the room, we planned these sessions so that leaders would co-facilitate panels on topics they excelled in. Topics included hosting events, fundraising, working with panels and non-monetary activations, communications and social media, setting goals and engaging nonprofits.
Pam Turos, of #GivingTuesdayCLE shared how she mobilized her community of changemakers, social justice seekers and idealists in Cleveland. Based on the belief that nonprofits can do more together than they can alone, her team created an equitable model that took the competition out of fundraising. All donations were divided evenly between 36 participating nonprofits.
Emma Bachelder, shared how the United Way of Greater Cincinnati organized nonprofits, volunteers and partners to collect over 4,000 children's books that would be distributed to communities where there is a gap in access to books. Volunteers created book nooks and decorated 500 bookmarks. Emma urged attendees to think creatively and equitably about their campaigns, sharing that her team made sure to include places like laundromats when deciding where to distribute the books and nooks.
After an epic lunch (we requested the caterer bring classic Charlotte dishes and they showed *up*), we chatted about what the data tells us about GivingTuesday. Leaders learned about our Data Collaborative project which explores giving behaviors and patterns and identifies innovative practices that can help grow generosity. They also learned about goal setting and building an evaluation plan into their campaigns to help measure success in more ways than a just a total dollar amount.
The GivingTuesday movement started with a question: We have Black Friday and Cyber Monday, what if we had a day for giving? It's a pretty simple question. The answer, it turns out, is that you get the largest social movement in history. In every country, in rooms like this one, leaders are collaborating and building change all over the world.
Read more
A Whole Lot of GOOD Came to Town
Want to bring GivingTuesday to your community? Just email us!