A Guide to Everything There is to Know About Giving Circles
What is a Giving Circle?
Giving Circles are groups of friends, family or co-workers that pool charitable donations and decide together where to allocate their money, and learn together. Giving circles come in all shapes in sizes — from a few people to several hundred, from a few dollars to hundreds of thousands, meeting regularly or once a year. The model is infinitely flexible to the needs and desires of participants.
The American giving circle movement has tripled over the past decade to more than 1,500 circles (many who are networked together by a specific affiliation), and over the past two decades, American giving circles have engaged at least 150,000 people and given away as much as $1.29 billion. An effort is currently underway to connect and catalyze all of these circles to grow the national movement over the next several years to democratize and diversify philanthropy.
What are the benefits of a giving circle?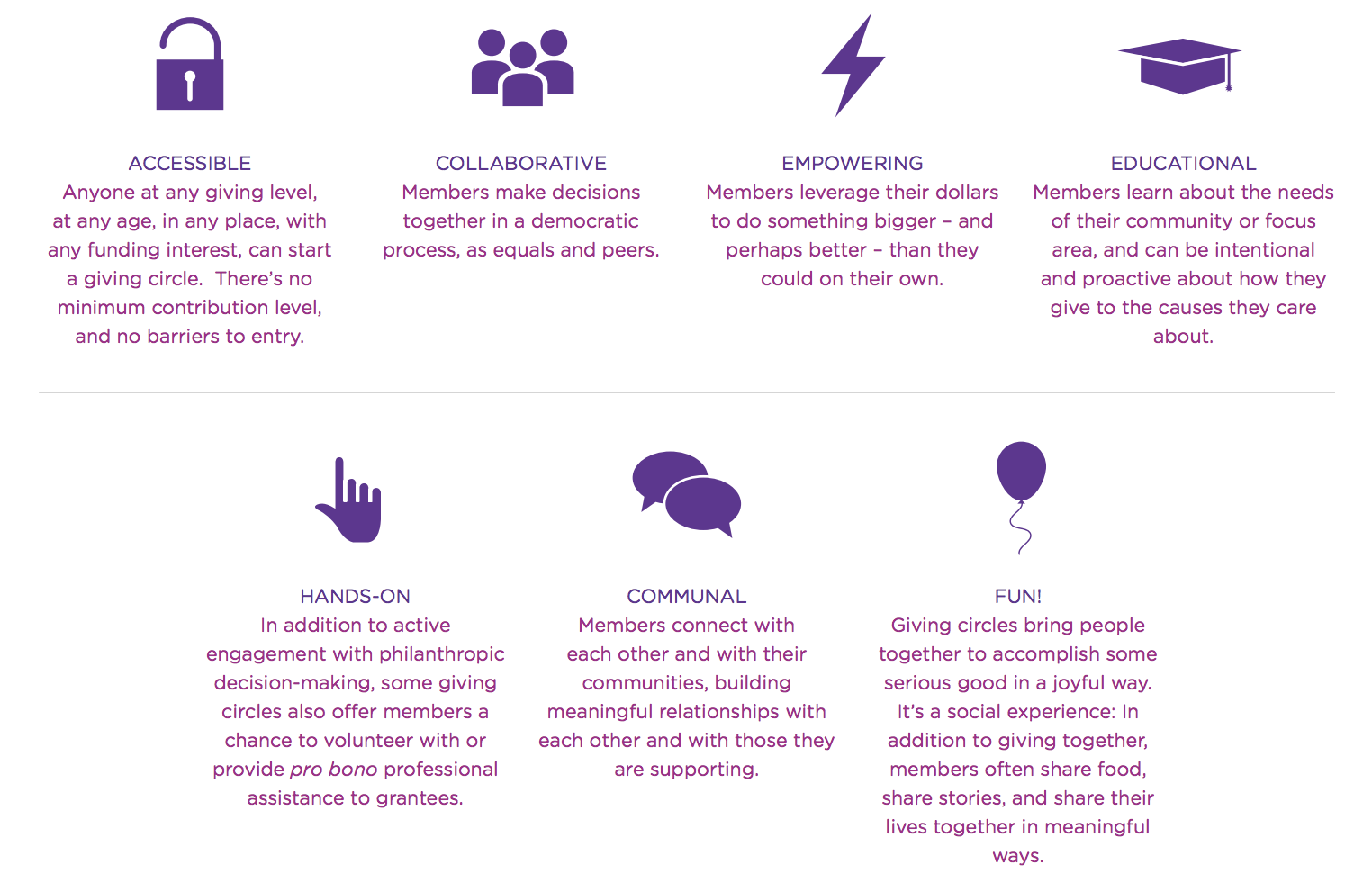 *Graphic from Amplifier's Giving Circle Essentials — a detailed playbook about how to start a giving circle.
How can I start a giving circle ahead of GivingTuesday?
There is no one right way to start a giving circle. Below are several key steps to walk through in starting your own:
Gather a group of people together in person (food is always welcome!) — it could be 5, 25, or 500+ people. Think about who to include both within your typical networks or GivingTuesday Community, but also beyond. Who else should have a seat at the table — across age, race/ethnicity, socio-economic status, religious affiliation, etc.?
Determine the funding amount each person is willing to give — it could be $25, $250, $2500, $25k. It can vary per person or be a set specific target number such as a $100 or $1000 for all participants to equally give.
Discuss the values, vision, issue areas, and interests that connect everyone in the group. This will help determine what issues to fund through a grant. Many giving circles give locally to organizations or projects that need direct support and where a smaller infusion of funding could make a big difference.
Determine your grant-making process and financial logistics. Some giving circles do a deeper-dive deliberative grantmaking process where they solicit, vet, and vote on grant proposals from nonprofits; others pool funding and each write an individual check to an organization or entity without any grant proposal process; some have a member-led committee do the bulk of work around proposal vetting and enable a broader membership to give and learn about the organization. Decide your vetting process, where the money will be housed, whether administrative expenses for the meeting will be covered.
After your first meeting, consider what's next and how to continue. Some giving circles meet on a quarterly or more frequent basis, and get back-end fiscal sponsorship support, become their own 501c3, or get hosted by a local community foundation. Many giving circles also engage with local community organizations in other ways like volunteering or sharing the story of the issue or organization.
Want to learn more?
Amplifier, one of many networks supporting giving circles, is offering a 90-minute online training session "Giving Circle Quickstart" on November 14th, 2019 from 12-1:30 ET to share models of various giving circles, help you design your own, and leverage proven tools to plan your meetings and activities. Sign-up Here
Resources
Amplifier, Giving Circle Start-up Questions
Amplifier, Giving Circle Essentials: A Comprehensive Guide to Starting a Giving Circle
United Philanthropy Forum, Ten Basic Steps to Starting a Giving Circle
AAPIP, Giving Circle Best Practices
Liberty Hill Foundation, How to Start a Giving Circle
GivingTuesday's Blog Series on What It's Like To Be Part of a Giving Circle
How can I join an existing circle?
There are a number of giving circle networks that support circles of certain identities and affiliations and have dozens (sometimes hundreds!) of local affiliates. Many of these circles have open membership and you can reach out directly to the network or to the local circle to get involved.
100 Who Care Alliance supports a range of giving circles, including many 100 Women Who Care chapters
Asian Americans/Pacific Islanders in Philanthropy supports AAPI circles
Amplifier support giving circles inspired by Jewish values
Awesome Foundation supports "awesome" projects $1000 at a time:
Catalist supports women's collective grantmaking groups
Circles.org supports the United Nations Sustainable Development Goals
Community Investment Network supports African American Giving Circles
Dining for Women supports circles focused on eradicating poverty among women and girls in the developing world
Giving Projects Network supports social justice philanthropy
Impact 100 supports women's circles in 5 issue areas (arts & culture, education, environment, family, and health & wellness)
Latino Giving Circle Network, run through the Latino Community Foundation, supports Latinx Giving Circles
Jewish Women's Funding Network supports Jewish women's circles
Center for Arab American Philanthropy supports Muslim giving circles
Want to learn more? Contact Isis Krause, isis@kneadpartners.com, who is helping lead this work nationally.