As the India Hub completes its first year, we've been thinking a lot about what generosity looks like in India: The many ways it is expressed by different parts of the country; the myriad forms it takes as people give time, talent, and testimony along with treasure; how the many religions that make up this country all encourage giving as central to faith; and how communities unite in times of trouble. The one thing that really excited all four of us, though, was when we started talking about how generosity, community, and food are such an important part of our culture. 
Historians and anthropologists will tell you about the evolutionary impact of food on building community everywhere in the world. Human settlements are believed to have started because of agriculture. Almost every country and every culture has its own celebration of food and community. But we wanted to bring you four very personal stories of how we have each experienced generosity and community through food. 
Heeral's Story
My paternal aunt lived in a chawl (tenement) system in Mumbai. It was a single-storied building with a set of rooms that strung along a corridor. Each of these tiny rooms was inhabited by different households, but the way I remember it, they all housed distinct flavors that make up my childhood. 
The doors of houses were always kept open throughout the day. My aunt's room was the last one in the row, which meant we'd be greeted and welcomed by every household we passed. Within minutes, her neighbors would bring over a portion of whatever was cooked in their house and serve it to us fresh and hot. That's what we looked forward to the most as kids – indulging in delicious and diverse flavors prepared by strangers with the same secret ingredient – love. Because that's how love was shared and expressed in chawls – by sharing food.
Beyond the high-rise buildings and the wonders of the world existed this effervescent communal life where food brought us together, warmed us right up, and put big smiles on our faces. A world where food, if not shared, lost all its taste.
Kavita's Story
The month of August 2018 is one I will never forget – my home state Kerala was hit by severe floods. It was a devastating time as people lost their homes, their lives' savings, and in some cases, their loved ones. In a span of fewer than seven days, hundreds of relief camps were set up, and people from all backgrounds were brought together under the same roof. 
Very soon, it was the eve of Kerala's biggest harvest festival – Onam! There is a saying in Malayalam that translates to "One must have the Onam lunch even by selling one's property if need be." Even though people were in a camp and in a crisis, the community members didn't want those accessing relief to miss out on a celebratory meal. Just like the 26 scrumptious dishes of the Onam Sadhya, generosity was plentiful, as communities came together to share a meal they will never forget. The relief camps soon turned into a massive Onam celebration. The underlying egalitarian spirit of Onam came alive through not just the meal that was shared, but also the fact that people from all religions, castes, and communities came together through the entire process of creating that feast. The sour taste of loss was replaced, at least for that day, with the sweet taste of payasam and community, slowly erasing memories of the leaky roof they were sitting under. 
Mihika's Story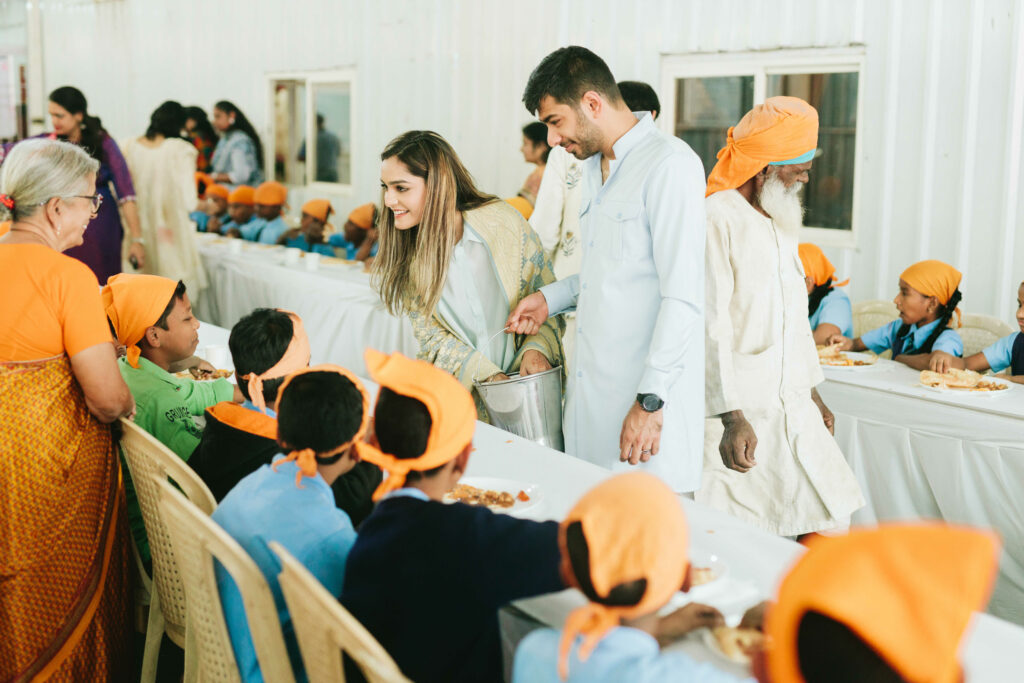 18th November 2022 was a special day for my friends Sayesha and Kabir – it was the day of their wedding. "Instead of the big fat Punjabi wedding, we chose to celebrate by sharing the gift of food with hundreds of underprivileged children who attend the Gurdwara school, surrounded by people we love in honesty, truth, blessings," Sayesha shares.  
Seva (selfless service) is central to Sikh culture and tradition. "Many of my most treasured memories as a child were spending one day a year at the Golden Temple in Amritsar (the preeminent spiritual site of Sikhism) working at the langar (community kitchen of a Gurdwara) doing everything from preparing the food, to serving, and cleaning up afterwards. Expressing seva through the sharing of food has been passed down to me from my grandmother and is how we as a family express love. So when we were planning our wedding, it was only natural that we celebrated by sharing a meal with the children!" says Sayesha. Kabir is extremely passionate about food, he is constantly eating and discovering new kinds of food, and when Sayesha brought up that a celebration centered around food and generosity was one way to commemorate this new chapter in their lives, it felt very authentic to who he is and how he experiences joy. 
Food is a way we all connect– eating, bringing people together, removing all the tags, and just being human. On that day, the children were treated with special and decadent Punjabi delicacies, and they ate so much that the teachers complained that instead of attending class afterward, all they wanted was a nap! 
Priyanka's Story
In a previous job, our team was working with marginalized tribal communities who were coping with a huge number of vulnerabilities – no economic opportunities, poor health outcomes, no access to education, and food insecurity – to the point where in lean times, the community would eat bread they made with grass rather than wheat. But when our team visited the communities, they were overwhelmed by the generosity with which they were welcomed. Each family contributed whatever they could – a handful of rice, a fistful of lentils, a capful of oil – to put together a simple meal to share with the visitors. It was this abundant generosity that turned a simple meal into a veritable feast. 
Moved by the generosity that they were greeted with on this field visit, our team came back and told us these stories. Diwali – the Hindu festival of lights when most Indian families spend a lot of money buying gifts, sweets, and firecrackers – was coming up soon, and our entire team agreed that instead of spending money on what felt like frivolous things, we would instead buy dry food rations – rice, wheat, lentils, oil, salt – for the entire village. That Diwali was so much sweeter because it was flavored with generosity!
The American labor leader and civil rights activist, Cesar Chavez once said, "If you really want to make a friend, go to someone's house and eat with him…The people who give you their food give you their heart." We've truly experienced that in our lives, and it's given us food for thought: How many other ways does generosity show up in our daily lives? And how can we celebrate those myriad ways that generosity manifests itself as a way of life?