Since 2014, "Donate Bitcoin" has been more searched more often than "Donate Stocks". Why? Because if you own crypto, donating some can save you money on your taxes. On GivingTuesday 2019, #BitcoinTuesday, led by The Giving Block, helped nonprofits diversify revenue by accepting cryptocurrency donations. Here's how traditional nonprofits are getting ahead with cryptocurrency, at their respective comfort levels.
By Pat Duffy, Co-Founder, The Giving Block
Facebook, China and JP Morgan all have one thing in common – their own cryptocurrency. These companies saw 50,000,000 people using cryptocurrencies- so they adapted. Today, there are cryptocurrency exchanges in the US with more users than Fidelity, Charles Schwab and ETrade. The for-profit sector is evolving to take advantage of the Bitcoin boom. On GivingTuesday this year, nonprofits showed up to the party.
Beginner: Accept Bitcoin Donations
Many of the world's largest nonprofits now accept Bitcoin donations. Save the Children and Heifer International were front and center on Giving Tuesday, participating in the #BitcoinTuesday campaign to fundraise cryptocurrencies like Bitcoin.
Save the Children began accepting Bitcoin donations in 2014, at which point Ettore Rossetti stated that they had, "already seen the generosity of the Bitcoin community". Nonprofits began flooding in to accept Bitcoin donations toward the end of 2019 to take part in #BitcoinTuesday, and be prepared to maximize their Bitcoin fundraising in 2020.
Intermediate: Accept Other Cryptocurrencies
In October 2019, the IRS released guidance on cryptocurrencies, highlighting the fact that jumping between cryptocurrencies is a taxable event. In other words, nonprofits who only accept Bitcoin don't offer the tax incentive to the rest of the cryptocurrency community. In the months following October, The Giving Block saw a new demographic of interested parties – nonprofits who accepted Bitcoin looking to offer donors more options. In the lead up to Giving Tuesday, organizations like Save the Children who were equipped with Bitpay's solution came to us to expand their options. This next step in the continuum is an important one.
Expert: Actively Fundraise Cryptocurrencies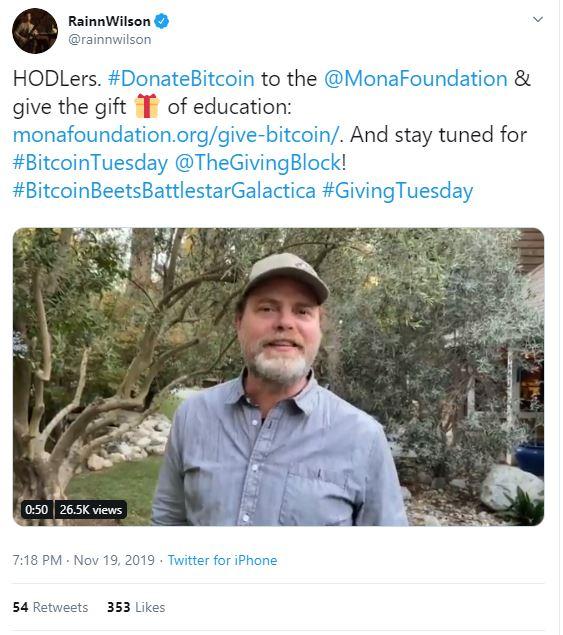 In the week leading up to Giving Tuesday this year, something interesting happened. The Mona Foundation asked Rainn Wilson (Dwight from the hit show "The Office" to make a video to help them fundraise cryptocurrencies. Just cryptocurrencies. This continues a trend we saw exploding this year, where instead of simply adding a donation page to their site, nonprofits were dedicating resources to solicit cryptocurrency donations specifically. Organizations like Mona, or the Rainforest Foundation with their "Crypto Firefighters" campaign, went directly to the cryptocurrency community and were uniquely successful as a result.
The Giving Block makes it easy for traditional nonprofits fundraise cryptocurrencies. They founded #BitcoinTuesday, and have created a platform for year-round cryptocurrency fundraising. To explore how you can get ahead with cryptocurrency fundraising, sign up for their webinar in January 2020. Have questions? Reach out to info@thegivingblock.com.