GivingTuesday is about giving of all types – some may choose to give a financial contribution to their favorite cause, others will help their neighbors, start an advocacy campaign, donate goods or extra supplies, or just share gratitude. 
The first thing to do is to rally your network. Giving is so much more impactful (and fun) when it's done in a group!  Think about your group chat, your block club, your neighborhood Facebook or Nextdoor group…  
Next, think about how you might want to give together. You might contribute to a local cause or collaborate to solve a community issue. 
Here are a few ideas, but the possibilities are absolutely endless: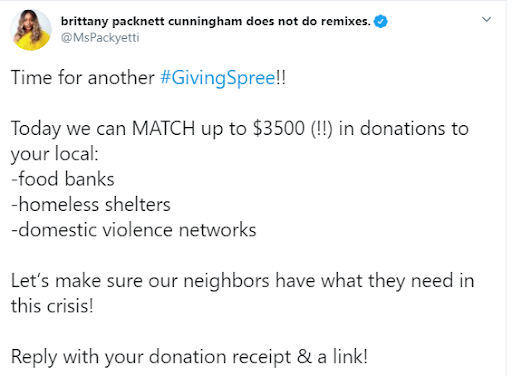 Discover a local fundraiser, community drive or coordinated event to join others in your area or with your same interests in giving back — they need your help.
Give to your favorite cause. (Check with your employer to see if they match donations!)
Share kindness with your neighbors–check on those who are alone and may need help with errands or just a friendly voice to talk to.
Volunteer virtually! Our friends at VolunteerMatch can help you find an opportunity near you (or you can help a nonprofit from anywhere in the world since it's remote!)
Encourage others to share kindness and be generous during this time.
Match others' gifts to your favorite nonprofit and make an even greater impact! (Example at right)