When we think about giving back, making a donation to a nonprofit is often the first thing that comes to mind. That's a great way to support your community and causes that matter to you, but not everyone is in a financial position to make a donation. Fortunately, there are many other ways to be generous, and as we say so often: Everyone has something to give, and every act of generosity counts. 
GivingTuesday began in 2012 as a day to give back and has grown to a worldwide year-round movement that's expanding our idea of what philanthropy looks like. On GivingTuesday 2021, we found inspiration from so many everyday people who found incredibly moving ways to make the world a little better. Here are just a few. We can't wait to see what you bring to the table next year!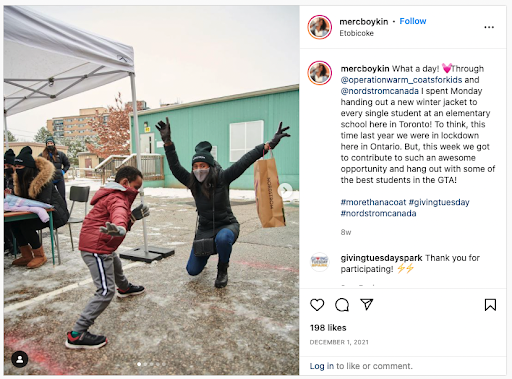 In Toronto, Canada, Mercedes Boykin teamed up with Operation Warm Coats for Kids and Nordstrom to deliver a new winter coat to every student at a local elementary school.
In North Carolina, college students Nicholas Sulak and Robert Brendle partnered with UNC-Charlotte and Amazon on a month-long food drive for the campus food pantry, which provides food for more than 200 students every week. On GivingTuesday, they hosted an in-person celebration of giving complete with food trucks, vendors, a silent auction, and more, raising more than $27,000 for the Jamil Niner Student Pantry.

Some folks, like @univerky on Twitter, offered virtual hugs and high-fives, embodying the GivingTuesday spirit that we all have something to give. All it takes is one person to reach out and make someone's day a little brighter. Here's a virtual high-five for you, @univerky!
No matter our age, we all have something to give. In Turkey, a mother and her young son delivered classic children's books to kids in a local village. At the Golda Meir School in Milwaukee, Wisconsin, fifth-grade chefs-in-training cooked up pots of nutritious minestrone soup and made cards to donate to the Repairers of the Breach Café, which helps those experiencing homelessness.
From young chefs to accomplished artists, GivingTuesday inspires all sorts of creative acts of generosity. Portrait photographer Tom Casalini donated all the proceeds from GivingTuesday sales of their book The Queerness Doesn't Matter to Trinity Haven and Indiana Youth Group, two LGBTQ+ youth housing nonprofits in Indiana.
Showing we care through gifts of food was a major theme on GivingTuesday 2021. Patrick Rhodes of Tampa, Florida, surprised schools around the city with deliveries of doughnuts and coffee. Neighborhood residents in Brazil came together in the Christmas Without Hunger campaign to donate and deliver food to hungry families in their community.
In Indiana, a group of businesses came together to give an Army veteran a new car. (Definitely have a tissue ready when you watch the video!)
In Nigeria, one man had his photo taken as he received his first Covid-19 vaccination to inspire others in his community to get vaccinated as well. He also organized a meal for 15 orphaned children in his community.
Small kindnesses can make a world of difference to a person experiencing difficult life events. In Florida, a shopper noticed that an older couple forgot to scan their laundry detergent and left without it. The woman quickly paid for it and delivered it to the grateful couple in the parking lot. It turned out they were in town to find out if the wife's cancer had cleared (it did!).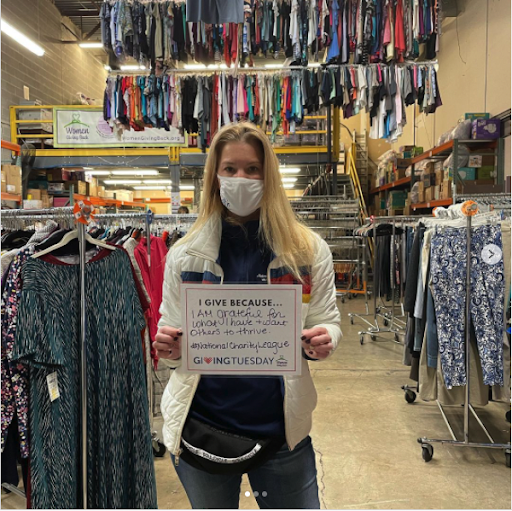 A friend's loss inspired Kim Dawarza in Virginia to clear out her closet and donate clothing to Women Giving Back, which helps women and children in crisis. While there, she spent a few hours helping to sort and hang clothing—the first time she volunteered in person since the pandemic began.
One great side effect of generosity is how it builds on itself. In Brazil, one young woman was moved to give back to Centro Educacional Dom Bosco, a social service organization that helps at-risk and vulnerable young people with food, transportation vouchers, social and psychological assistance, and skills that prepare them for the job market.
Once we get into a giving groove, it's only natural to invite the people around us to help make a greater impact. One woman in Quebec, Canada, has a long tradition of delivering holiday gifts to a local women's shelter. Rather than continue on her own, for GivingTuesday 2021 she invited women in her business network to team up with her in assembling gift bags.
These are just a handful of the many, many individuals who realized they had something to give that would make the world a little better. Turns out it really doesn't take much to spread love, kindness, and generosity on GivingTuesday and every day.