There is no doubt about it – GivingTuesday is a force in the philanthropic sector. In 2019, GivingTuesday campaigns brought in over $1.9 billion online and offline in the U.S. alone.
However, there are other reasons for nonprofits and social change agents to participate in this global generosity movement besides just raising money. GivingTuesday generates a ton of social media buzz – with billions of impressions on social media every year.
GivingTuesday is also a neat way to attract younger people to your cause and get them involved. 76% of 18-34-year-olds who are aware of #GivingTuesday participate in some way, either giving of their time, or money, or taking an advocacy action.
And best of all? 82% of nonprofits take this opportunity to experiment with something new.
Whether you are showcasing your impact, announcing a new project, or simply giving thanks, you may need some ideas and inspiration.
Here are just six ways you can make the most of GivingTuesday without asking for money.
Highlight your impact this year, even if you didn't reach your goals
Nonprofits should take some time in November and December to talk about all the great things accomplished this year, but also how our work has changed.
GivingTuesday is also an opportunity to frankly discuss this year's unprecedented challenges, but also what went right. No matter how small, let's celebrate our wins in a year with so much loss.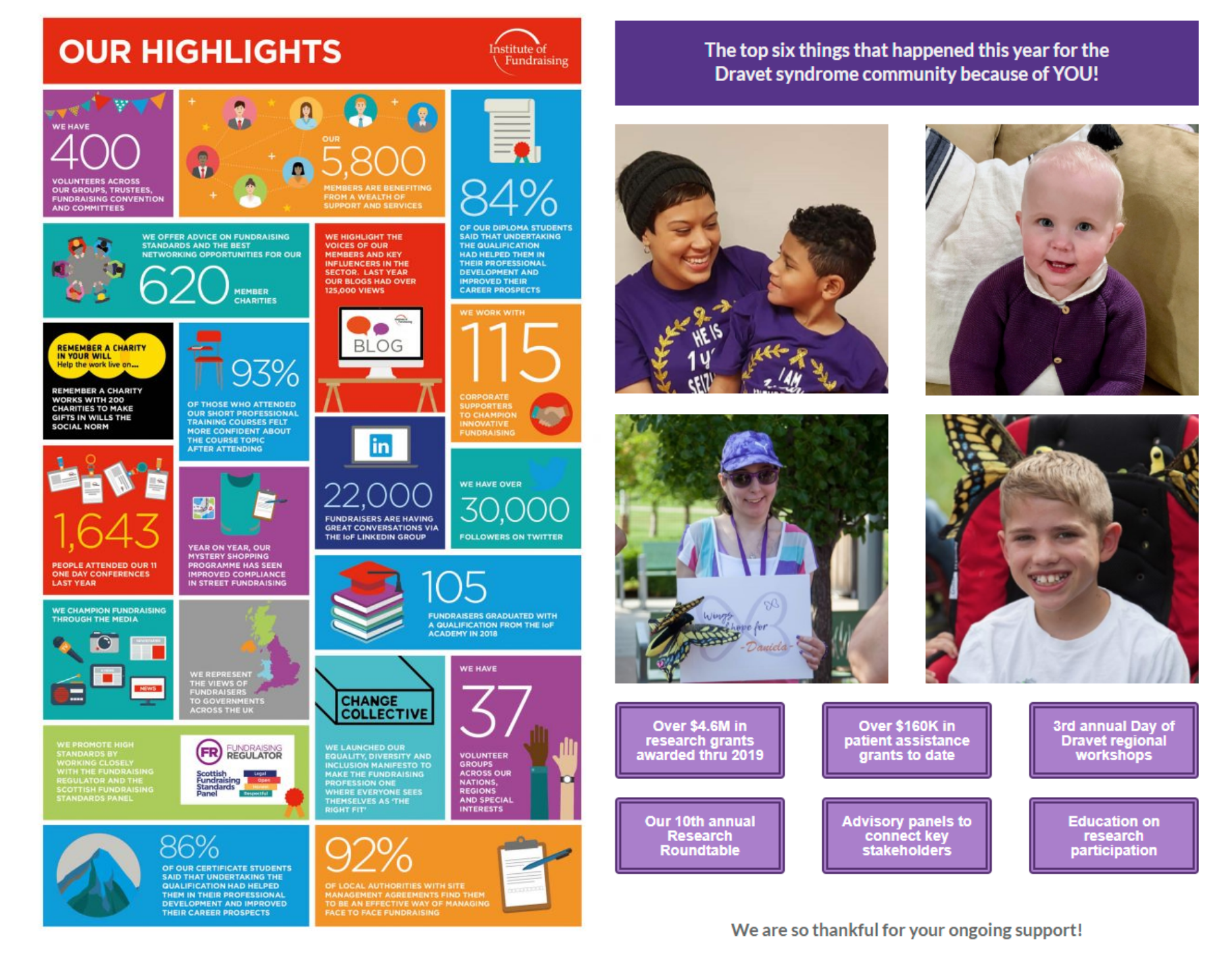 Ask your community what your mission means to them
The Night Ministry is an organization in Chicago that provides health care, outreach, spiritual care, and social services to adults and youth who struggle with homelessness, poverty, and loneliness.
Last year for GivingTuesday, they asked their community what home means to them. In this video, former clients Rich and Amber share their thoughts on home and tell us how they feel The Night Ministry creates a sense of home.
You can see more videos at www.thenightministry.org/what-is-home.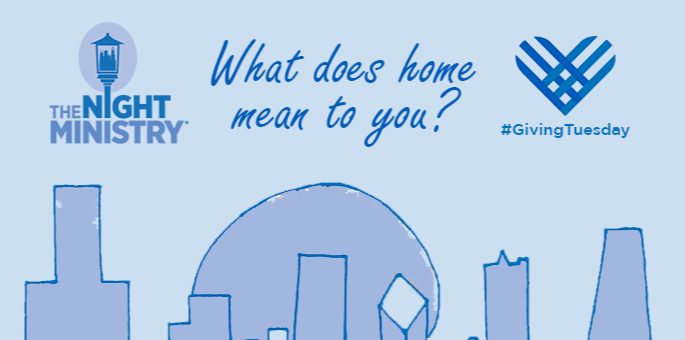 Showcase your staff and volunteers
One of the key missions of GivingTuesday is to showcase the vital, important work of the sector and the people who work in it. Tell the stories of the fabulous people in your organization who make the magic happen.
What are they most proud of this year? What challenged them the most? What are they looking forward to next year?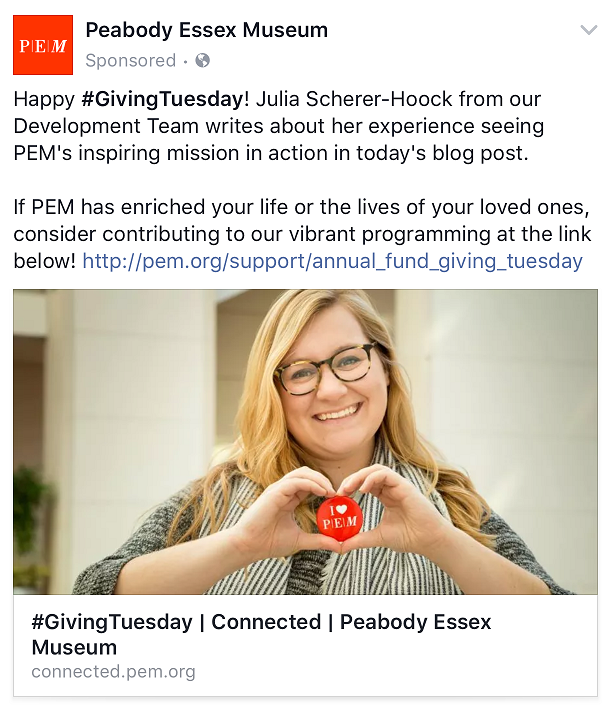 Promote and thank virtual event sponsors
Did your organization have to pivot in-person events this year to virtual? (I'm willing to be the answer is yes.)
Changing from in-person events to virtual takes time, effort, and a ton of creativity to make effective. This GivingTuesday, take a moment to truly spotlight and thank your event sponsors – the ones who generously went with you on this journey to virtual and digital.
Rather than simply posting their company logo on Facebook and writing "Thanks!", why not call them up and get a quote or a testimonial?
Ask your sponsors why they continue to give, even in this uncertain climate and with social distancing preventing many events from occurring.
What does giving mean to them, and why is it important?
Check out how Recipe for Success does Sponsor Spotlights.
Talk about gratitude
Gratitude doesn't mean only thanking people who have given you money. Who are the other people, partners, organizations, agencies in your community that provide indispensable assistance? Who else makes your work possible? Consider a 24-hour gratitude-a-thon, where staff and volunteers list out what they are thankful for.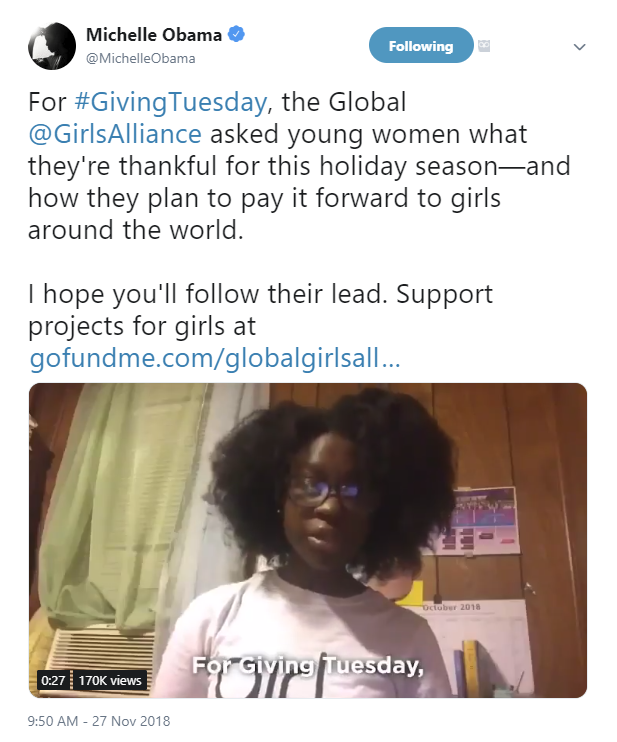 Random acts of kindness
Ask your community to participate in random acts of kindness on GivingTuesday.
Purchase a coffee for the person behind you in that very long drive-thru.
Go outside (following safe social distancing guidelines) and write a "love note" on someone's driveway in chalk.
Write handwritten notes to anyone who has made your life a little bit better in the past few weeks.
If you don't have note cards, send emails or record voicemails.
Then see if people will share their random acts of kindness with you on social media!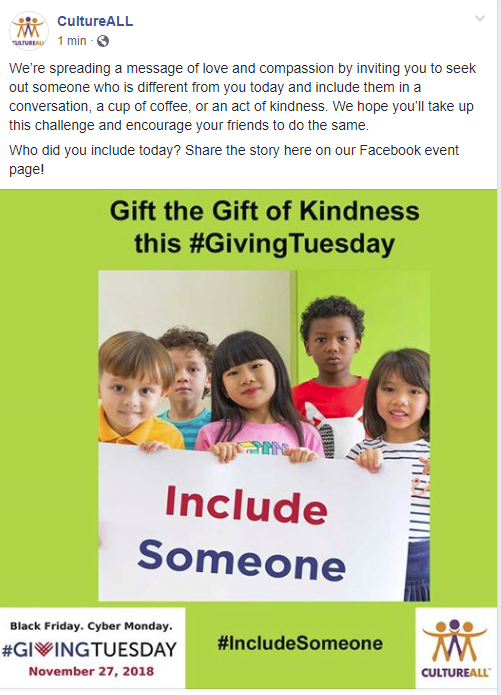 Get Inspired
No matter how you participate, get ideas, tool kits, checklists, and other free resources over at the GivingTuesday website. There you'll find social media graphics, logos, and ideas from nonprofits all over the world taking part in the global day of giving.
Tweet us at @JuliaCSocial and @GivingTuesday to share your ideas and actions!